John Reeves' recycled plastic Chester furniture collection has been nominated as a finalist for the prestigious Rossana Orlandi Guiltless Plastic Prize, taking place at the Milan Salone from April 17th to 23rd. The initiative challenges designers to rethink and redesign single-use plastics, to make plastic guilt-free again.
John Explains his design process:
"This collection has been sampled and made in recycled street waste plastic in Ho Chi Minh City, Vietnam. I was approached by the fantastic company Plastic People who have been processing this waste into colourful plastic panels; initially their recycled plastic materials had been helping to build social houses in the Mekong region and for cyclone damaged houses in the center of Vietnam. As they began to refine their process they realised the potential of colour separating and making boards with various patterns, finishes and techniques such as terrazzo style, tutti-fruiti and glaze blue which I like a lot."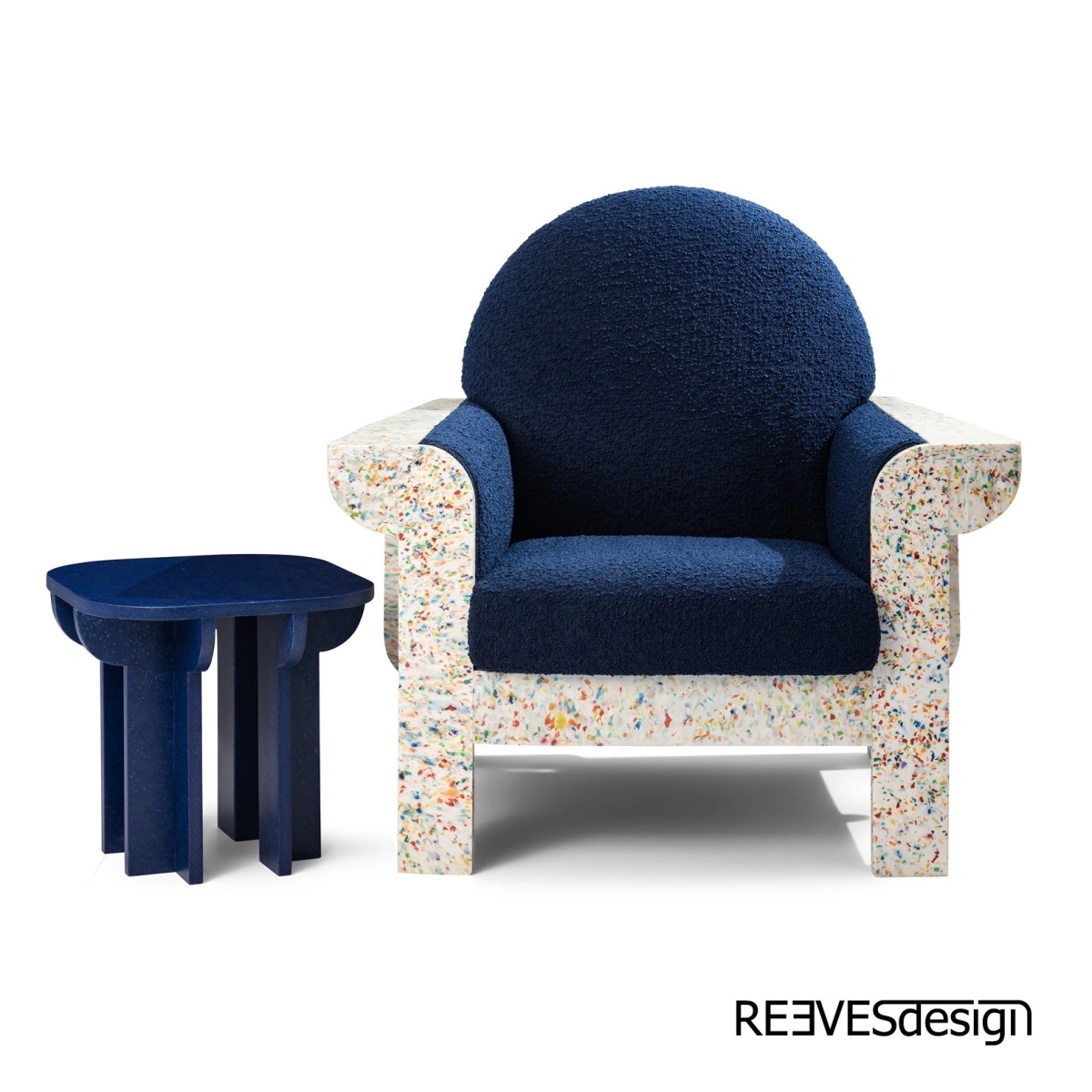 "I created the Chester collection based on CNC cutting from sheets of a standard 20mm thick plastic panel, the silhouette is inspired from the classic Chesterfield, combined with the drop in cushion format of the Le Corbusier LC3 chair and the bare naked frame of the Adirondack chairs (essentially the plastic needs to be seen)! Once I had established the silhouette and the engineering I was then able to unpack a full range including side tables, coffee tables, console table and many more. I was also introduced most recently to TEXSTYLE, a wonderful company that make thoughtful and beautiful upholstery fabrics out of recycled plastic which can be seen in the old Rosa pink cushions and the deep looped navy blue.
I am excited that my contribution to this initiative will also be available and in production soon." 
Commitment to sustainable design
"Only final production pieces are emblazed with the Reeves Design logo plate, complete with an important message:
"embracing cultural individuality in one world"
Design is the starting point  of the communication process which brings a new object to life; many hands and indeed, many cultures all take a part in this journey, at each and every step. It's our roll as designers to be mindful of this fact.
Recycled and sustainable resources must become part of the cultural norm
Design by John Reeves "
TEXSTYLE team is honored to be part of this meaningful message, and we wish the best of luck to John!
Learn more about TEXSTYLE Recycled process.
LET'S
INSPIRE
YOU
Experience